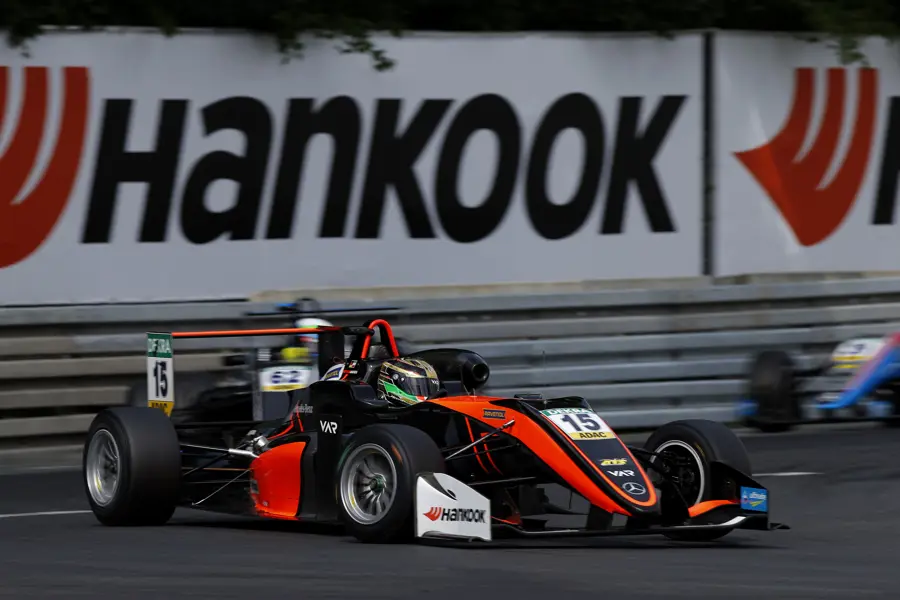 Pure speed and a bit of luck brings first trophy
27/06/2018
Our two drivers in the FIA European Formula 3 Championship found speed at the very special Norisring. Street racing alongside the guard rails both Keyvan Andres Soori and Artem Petrov improved their personal best result of the season. Keyvan did it in style: after the second race he was promoted from fourth to third; marking his first ever podium result in European F3.
The Norisring is 2,3 km of pure action, watched on Sunday by 100.000 spectators. The speeds are high, the corners tight and the chances to overtake numerous if you dare to outbreak the car in front or choose a different line.
In the first of three races the contours of a strong weekend for the Van Amersfoort Racing squad was outlined for the first time. Keyvan made up seven positions. From 17thon the grid he entered the top 10, scoring his first European F3 Championship point. Artem managed to gain five positions resulting in P13.
Later during the second qualifying session, Keyvan picked up his best qualifying result of the season. His flying lap gave him P6 on the grid for the second race. That race started with a heavy crash where a stalled car was hit hard from behind. Gladfully none of our drivers were involved. Keyvan managed to overtake two cars before the race was suspended.
With 20 minutes still left to race, Keyvan showed his skills in defending his 4th position after the safety car left. For some ten laps the German with Iranian roots had to withstand the furious attacks of Austrian Ferdinand Habsburg. Our driver kept cool choosing his own racing lines and using all the power and downforce of his Dallara Mercedes-Benz. Eventually he managed to create a healthy margin crossing the finishing line in 4th.
After the race Keyvan was promoted to third place when the initial number two finisher Enaam Ahmed was penalized. A milestone for our driver, being his first ever podium result in FIA European F3 Championship. Artem proved a bit unlucky. A jump start resulted in a drive through penalty. Very unfortunate while the Russian was amongst the fastest drivers on track. In the final race Artem missed out on a championship point by only one position being 11th. Keyvan did not finish the race after he was hit by a competitor. 
Rob Niessink, CEO of Van Amersfoort Racing: "It was good to see that we had the speed to be competitive at the Norisring. Artem was a bit unfortunate which kept him from translating his speed into championship points like Keyvan did. After his point scoring finish in race 1, Keyvan continued his good form in Q2 and race 2. The way he fended off the attacks for p4 in the second race was quite impressive. All in all: the performance of our drivers gives us good energy on the way to our home event at Circuit Park Zandvoort."