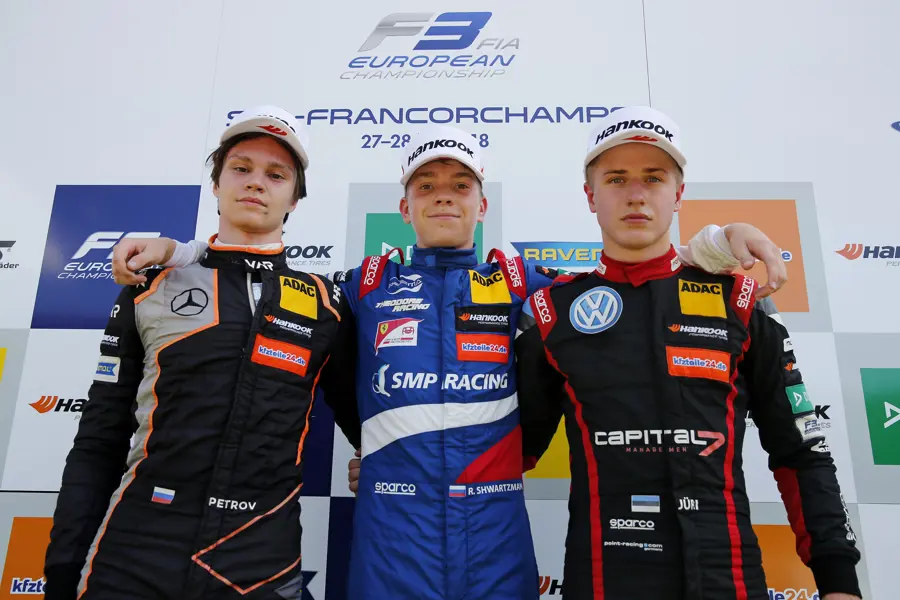 More points for Van Amersfoort Racing at Spa
31/07/2018
After its home round at Zandvoort, Dutch team Van Amersfoort Racing continued its campaign in the 2018 FIA Formula 3 European Championship. The season reached its halfway point at the iconic Circuit de Spa-Francorchamps in the Belgian Ardennes region, where the F3-youngsters raced in the curtain-raiser for the annual 24 Hours of Spa. The Belgian round enabled Van Amersfoort Racing to add further championship points to its total.
"Racing at Spa-Francorchamps is always nice, every driver loves this track and although being a support category for the 24-hour race requires some improvisation, like being located far away in the paddock, we always like to come here," team principal Frits van Amersfoort said. "Of course, we have fond memories of all the races we have done at Spa over the years, including the three wins Max Verstappen scored there with us four years ago." 
With all the sessions of the support categories obviously having to be completed before the start of the 24-hour race, Friday already brought plenty of action for the Formula 3 teams with free practice and both qualifying sessions. Artem Petrov and Keyvan Soori Andres were classified 15thand 16threspectively in the combined free practice results, with Sophia Flörsch in 20thposition. 
In qualifying for race one, however, it was Sophia who led the way for Van Amersfoort Racing with the 14thfastest time, equalling her best starting grid position in only her second weekend in the category. Artem qualified 18th, Keyvan followed five places further down. Qualifying for race two saw Artem repeat his 18thplace, with Sophia only nine thousandths of a second behind in 19thand Keyvan in 21stplace. Artem again ended up 18thin qualifying for race three, based on the second-fastest lap times in Q2. This time, Sophia was 20thand Keyvan 22nd.
As usual at the Grand Prix circuit in the Belgian Ardennes, racing action was quite entertaining with many slipstream duels, side-by-side racing and no lack of position changes. In the first race, Artem and Keyvan made great progress and both scored top ten results, adding championship points to their tally. Artem scored his best result in the series so far by finishing eighth, Keyvan was classified tenth. Sophia came home in 16thplace. With this result, Artem also came third in the rookie classification, allowing him to participate in the official post-race prize-giving ceremony.
Keyvan again made good progress in race two to finish twelfth, Sophia came 17th. Unfortunately, Artem retired due to a technical issue. In the third and final race of the weekend, the three Van Amersfoort drivers showed a closed team performance with Artem finishing 18th, Keyvan 20thand Sophia 21st.
Rob Niessink, CEO of Van Amersfoort Racing: "For the first time this year, we had two of our drivers scoring points in one race, which is always nice, of course. Especially in race one, Artem and Keyvan made good progress from their respective grid positions to finish in the top ten. As for Sophia, we must consider that this was only her second weekend in the category and that she clearly finds her way nicely. After a three weeks break, we have a busy time ahead of us with three events in four weekends including the back-to-back meetings at Silverstone and Misano."