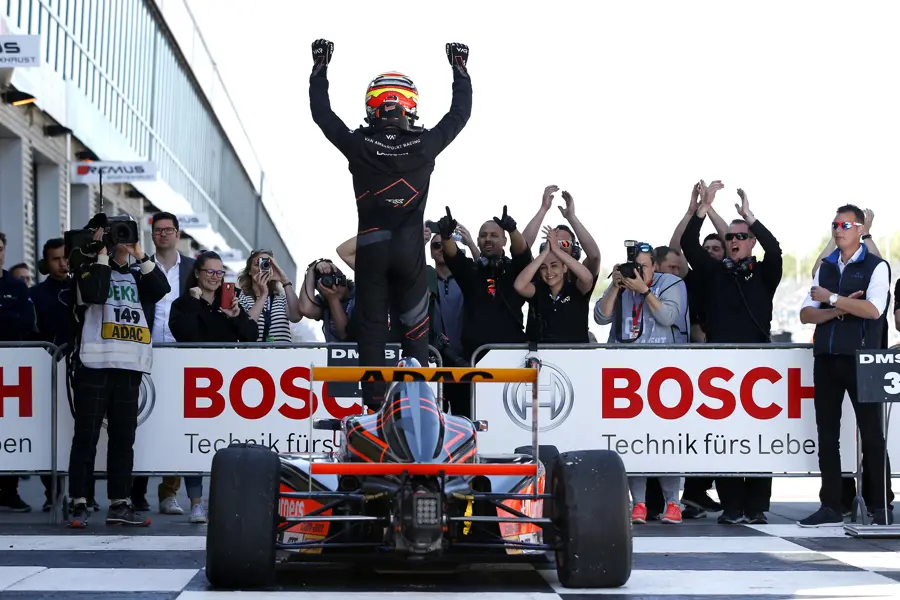 In full swing at the Lausitzring
22/05/2018
Lausitz/Zeewolde, 21 May 2018 - With two wins and two second places, Van Amersfoort Racing experienced the best appearance of the season in the ADAC Formula 4 Championship. At the Lausitzring, Liam Lawson from New Zealand was the best performing VAR driver of the weekend with two race wins and a second place.
Helped by the recent positive experiences at Paul Ricard, our drivers were confident and fast straight away during the DTM event last weekend at Lausitzring. During Free Practice, Frederik, Charles and Liam topped the timesheets and when qualifying was finished, all were in the top five.  
The first race of the weekend turned out to be an eventful one. During lap two, no less than eight drivers spun out on gearbox oil, unfortunately including our Joey Alders (Holland), Lucas Alecco Roy (Germany)and championship contender Frederik Vesti (Denmark). The result; end of the race with severe damage on all three cars.
When the race continued, Charles Weerts raced within the top five until he was pushed out by another competitor and had to visit the pit for suspension damage repair. Coming back on track he managed to work his way up again into the points, finishing in 10thposition.
Liam was clearly awake at the restart after the safety car and worked his way up to second position. When Lirim Zendelli had to retire with a technical issue in the final lap, Liam was completely in control to take his maiden win in the ADAC German F4 Championship.
A few hours later, during race two, Liam displayed that his first victory was no coincidence. With daring and beautiful overtaking maneuvers he fought his way up from 5thto 2ndplace, having had to fight several impressive wheel-to-wheel battles. 
At the same time, Frederik Vesti was again very unfortunate. Starting from 2ndposition on the grid, he was plagued by technical problems; an unpleasant legacy of the crash in the first race. It forced the runner-up in the championship to retire after a handful of laps, which made him drop in the overall championship standings. No reward for his speed and hard work of the team repairing the car this weekend.
Charles bounced back from the first race with an excellent 5thposition and a very mature drive. Joey Alders secured a solid 8thspot and finished 2ndin the Rookie Cup. Lucas followed closely behind him in P9. It was the second time our fast learning German collected championship points.
Thanks to top eight reversed grid after race two, it was Joey Alders who started from pole in the final race on Sunday. After a very good start, the rookie led the pack for two-third of the race distance in full control. When the tires began to drop in performance, causing him to spin, Joey eventually finished 14th. Never-the-less he undoubtedly showed his talent and natural speed in the opening stages by leading with a clear margin. 
From 7thon the grid, Liam Lawson continued his mission for the podium. Charles Weerts started, with a similar mission, from 5thplace. Half-way the race, the VAR train was again in control: Alders, Lawson and Weerts. After passing their Dutch teammate, Liam and Charles made it an excellent one-two on the podium. Liam being able to finish with a clear 2,2 second margin, while Charles fended of the attacks on his third position in style. 
Just two positions behind, it was Frederik Vesti who showed both speed and character in the final race at the Lausitzring. In just thirty minutes, the Dane went from 18thto an impressive 5thposition, finally being able to show the pace he had all weekend. As for the championship standings, Liam made a giant leap forward: from 4thto 2nd, with a gap of 25 points to the leader. Joey Alders has been lifted to third position in the Rookie standings.
Jeroen the Jong, team manager of VAR's F4 team: "From the first moment on we proved to be competitive at the Lausitzring, which resulted in four podium finishes. Unfortunately, Frederik was struck by an unfair portion of bad luck; otherwise we could have secured more successes. We all enjoyed the drives of Liam. Not only because of the outcome, but also for his daring but controlled driving style. Charles made again great progress, resulting in a well-deserved podium finish. Joey Alders did not get the results he wanted, but his approach gives much confidence for the upcoming races. As is the case for Lucas; it will only be a matter of time before he will be a regular top-ten finisher. This third weekend showcased what our team and drivers are capable of this season."
Drivers standings after round 3
1. Lirim Zendeli (US Racing) 152; 2. Liam Lawson (Van Amersfoort Racing) 127; 3. Mick Wieshofer (US Racing) 97; 5. Charles Weerts (Van Amersfoort Racing) 86; 6. Frederik Vesti (Van Amersfoort Racing) 75; 11. Joey Alders (Van Amersfoort Racing) 22; 16. Lucas Alecco Roy (Van Amersfoort Racing) 6.
Rookie cup standings
1. David Schumacher 141; 2. Niklas Krütten 135; 3. Joey Alders (Van Amersfoort Racing) 93.
Team standings
1. US Racing 269; 2. Van Amersfoort Racing 223; 3. Prema 175.