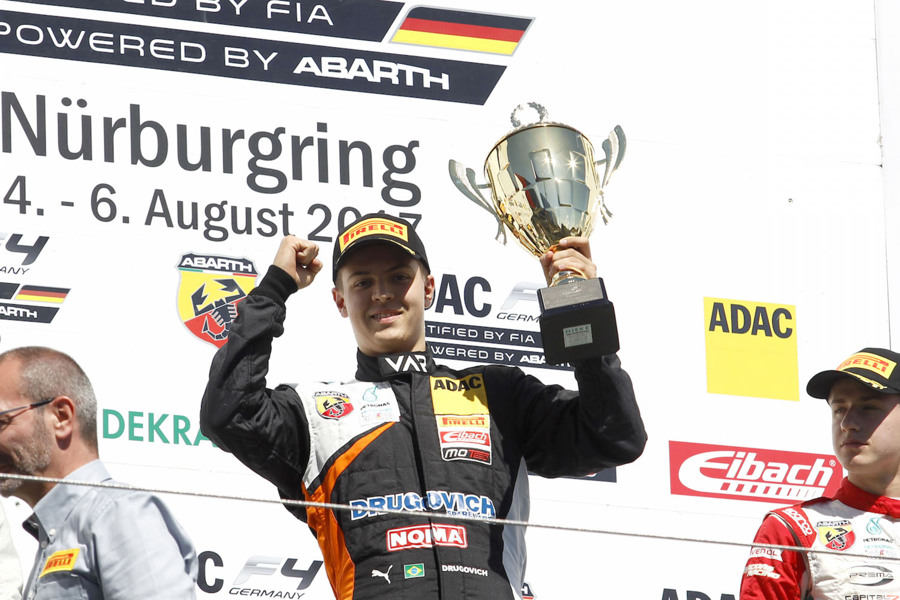 With a victory and pole position we go into summer break
09/08/2017
For the 5th round of the ADAC Formula 4 championship we visited the Eiffel. At the very technical Nürburgring the margin between the pole sitter and P20 in qualifying was only 0,7 sec. In this environment Van Amersfoort Racing made his mark with a pole position and a victory. But with a little more luck…
The battle in qualifying made once again clear how skilled the german F4 class of 2017 is. In that battle it was our driver Felipe Drugovich who used the grip of his fresh tires excellent. The Brazilian scored pole position for race 2 and front row for race 1, just 0,002 sec. off the pole.   
Felipe was struck by bad luck in the opening race: in second position he got hit from behind in the opening lap causing a spin. It immediately ruined his changes of scoring healthy championship point in the opening race and the last race; since the starting order for race 3 is determined by the result of race 1. And Felipe finished only 17th… 
In race 2 our Brazilian boy bounced back from the big disappointment by winning the second race from pole position. But again bad luck stroke. The race was red flagged after 7 laps due to a crash, so only half the championship point were awarded. In the final and third battle Felipe made the most out of it: storming the ranks from p17 to a two point scoring 9th position! In the standings he remains third.  
At the famous German track Louis Gachot showed his progress to the world. His solid qualifying proved to be solid ground for two top 10 finishes (from p11 to p6 in race 1 and form p13 to p10 in race 2). Danish rookie Frederik Vesti struggled a bit to use the most of his tires in qualifying, but proved his racing skills in the races. 
Frederik showed incredible pace in race 1: from p16 to p7! After a start from P4 in the last race he got hit in the first corner causing a visit to the pits for a new nose and rear wing. Canadian Kami Laliberté was struck by illness the whole weekend. He missed out the free practice on Friday, tried to make the most out of qualifying, race 1 and 2, but towards the last race Kami and the team decided he was to ill to start in race 3. 
Jeroen de Jong, team manager in Van Amersfoort Racing Formula 4 squad: "It was very enjoyable to see how well all our drivers perform in the competitive environment of the ADAC Formula 4. Felipe was really on the pace and it was unfortunate to see how he got hit in the opening race. It jeopardized his chances of climbing the championship ranking. But we have six races in two events to go, so everything is still possible."
Championship standings
1. Juri Vips 182,5; 2. Marcus Armstrong 171; 3. Felipe Drugovich (Van Amersfoort Racing)159,5; 11. Kami Laliberte (Van Amersfoort Racing) 65; 12. Frederik Vesti (Van Amersfoort Racing) 62; 15. Louis Gachot (Van Amersfoort Racing) 27.