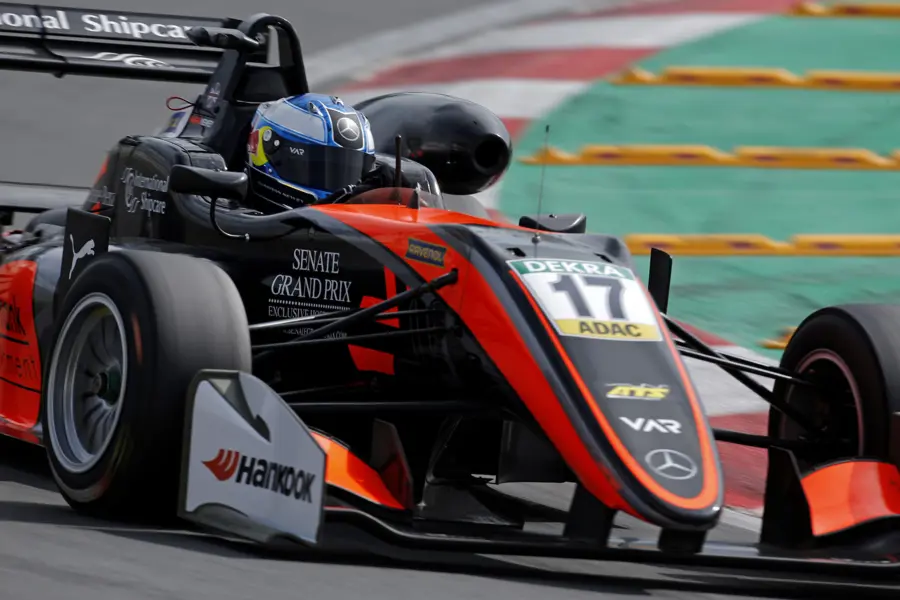 Satisfying final in the Dutch dunes
23/08/2017
This weekend we raced the circuit where it all started for Van Amersfoort Racing in 1975. Circuit Park Zandvoort hosted the 7th round of the FIA European Formula 3 championship. After a tough start in the dunes the result at the end was satisfying: two Rookie podium trophies, a fourth place and all three drivers scoring healthy point in the final race.
An odd luxury: in a bit more than an hour we drove from our headquarters to the venue. Circuit Park Zandvoort is something special. Not only because it is situated between the dunes of the North Sea, but also because it is a very technical circuit.
In the battle against the chrono our three drivers found some difficulties to merge the fastest sector times into one hot lap. Pedro Piquet was our fastest man in Q1 and Q3 with p11 and p9, Harrison Newey led our squad in Q2 with p9.
Brazilian Pedro proved awake at the restart of race 1, boosting him into seventh place after he started from 11th on the grid. A satisfying result knowing that passing at Zandvoort is very difficult. Harrison, who passed his school exams in the week before, battled for the last championship point with succes.
After grid penalties for infringements under yellow Harrison was promoted to 5th on the grid (in stead of p9) for race 2. The Briton accepted this present with pleasure. He conquered fourth place with an excellent start and kept this position until the flag dropped. Joey Mawson and Pedro had a race accident which unfortunately forced Pedro to retire. The Australian F3 newcomer received the bronze trophy being third at the rookies.
In the final race on Sunday all three drivers were on top of their game. Pedro managed to win three positions, Harrison and Joey even won four places. The result was evident: p6 (Pedro), p7 (Harrison) and p9 (Joey). Our Australian rookie again was invited for the rookie podium ceremony: this time Joey received the trophy for the second best F3 newcomer.  
Rob Niessink, CEO of Van Amersfoort Racing: "Racing at Zandvoort is also about getting the maximum out of the downforce of the car. In combination with the technical lay out and relatively short straight, it makes this track very demanding for the drivers. After modest results in qualifying Harrison, Joey and Pedro showed their qualities in the races. The triple top 10 result in the last race on Sunday gave an satisfying end to our home event."
Race 1
1. Lando Norris    Carlin    Dallara/Volkswagen    21 laps in 34m40.756s
2. Joel Eriksson    Motopark    Dallara/Volkswagen    +8.974s
3. Maximilian Gunther    Prema Powerteam    Dallara/Mercedes + 11.653s
7. Pedro Piquet    Van Amersfoort Racing    Dallara/Mercedes +21.066s
10. Harrison Newey    Van Amersfoort Racing    Dallara/Mercedes +24.258s
14. Joey Mawson    Van Amersfoort Racing    Dallara/Mercedes +43.819s
Race 2
1. Callum Ilott    Prema Powerteam    Dallara/Mercedes    22 laps in 34m52.414s
2. Jake Hughes    HitechGP    Dallara/Mercedes    + 7.371s
3. Lando Norris    Carlin    Dallara/Volkswagen        + 8.742s
4. Harrison Newey    Van Amersfoort Racing    Dallara/Mercedes    +14.993s
14. Joey Mawson    Van Amersfoort Racing    Dallara/Mercedes    + 35.537s
- Pedro Piquet    Van Amersfoort Racing    Dallara/Mercedes    Retirement
Race 3
1. Lando Norris    Carlin    Dallara/Volkswagen    24    35m44.299s
2. Ferdinand Habsburg    Carlin    Dallara/Volkswagen    24    6.646s
3. Maximilian Gunther    Prema Powerteam    Dallara/Mercedes    24    11.530s
6. Pedro Piquet    Van Amersfoort Racing    Dallara/Mercedes    24    31.541s
7. Harrison Newey    Van Amersfoort Racing    Dallara/Mercedes    24    31.936s
8. Ralf Aron    HitechGP    Dallara/Mercedes    24    32.461s
9. Joey Mawson    Van Amersfoort Racing    Dallara/Mercedes    24    32.817s
Drivers' standings
1. Lando Norris 313; 2. Maximilian Gunther 302; 3. Joel Eriksson 258; 9. Harrison Newey (Van Amersfoort Racing) 94; 12. Pedro Piquet (Van Amersfoort Racing) 59; 14.    Joey Mawson    (Van Amersfoort Racing) 50

Rookie standings
1. Lando Norris 425; 2. Jehan Daruvala 380; 3. Mick Schumacher 320; 4. Joey Mawson 262