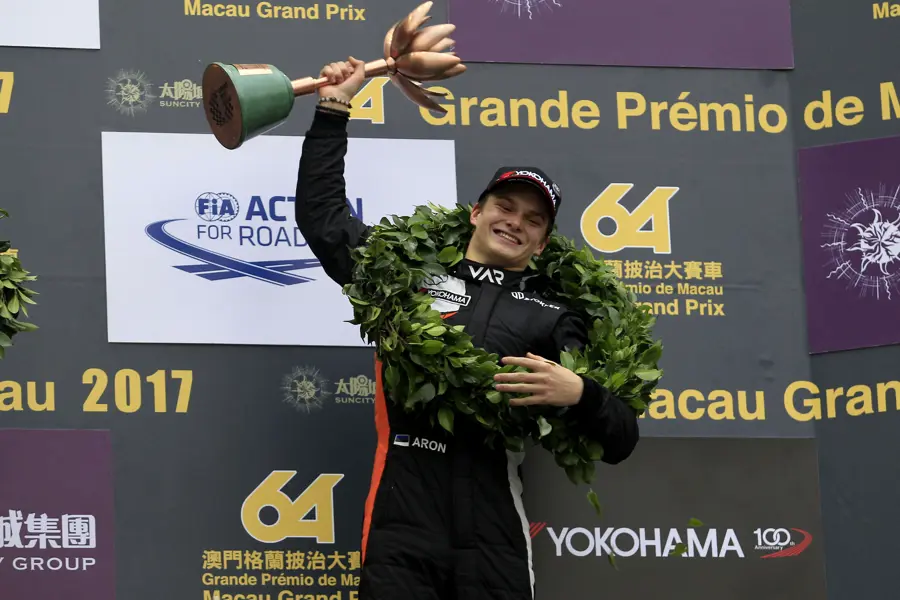 Podium finish to end the season at the 64th Macau Grand Prix
23/11/2017
The racing season of Van Amersfoort Racing came to a spectaculair finish at the 64th Macau F3 Grand Prix this past weekend. In this very special ambiance, our two gladiators; Brazilian Pedro Piquet and Ralf Aron from Estonia, bravely raced the breathtaking street circuit. The result was equally satisfying: Macau rookie Ralf made it onto the podium of the Macau F3 Grand Prix 2017 in 3rd place, while Pedro finished a strong 6th.
The Guia street circuit (6,120 km) has a reputation for biting back. To be at the front a driver has to give his all, but if you push beyond the boundaries… the barriers are there to collect you!
Pedro Piquet had a good Macau debut last year by finishing 9th. At his second appearance, the Brazilian driver continued were he left off last year. In the first qualifying Pedro proved to have the speed by setting the 2nd time. A very strong performance considering he was on old tires and had only one free lap to set a laptime.
In the second qualifying both Pedro and Ralf struggled a bit to find the balance between keeping out of the barriers and going absolutely flat out, after kissing the barriers in free practice two. It resulted in 13nd spot on the grid for Pedro for the qualification race and 17th position for Macau newcomer Ralf, who improved his speed bit by bit in the sessions.
The results of the qualification race determines the starting order of the Macau Formula 3 Grand Prix, so there was enough at stake for the Van Amersfoort Racing drivers. Pedro drove on the limit in the 10 laps race. He battled his way to an excellent 6th position after also overtaking reigning FIA F3 European champion Lando Norris. Ralf also made a good recovery converting his p17 into a p13 at the finish line.  
The main race of the 64th edition of the Macau Grand Prix was chaotic an dramatic as ever. Pedro had an excellent start, but was a bit unlucky not be able to position himself ideally for the first corner. He survived all safety car situations and finished in sixth, marking his personal best result at Macau until now.
Ralf Aron definitively kept the best for last. From 13th on the grid the Estonian stayed out of trouble and looked after his tires very well. Where many of his competitors crashed out, Ralf raced his way into the top 5. In the last lap Ralf got maximum reward of being fast and flawless by grabbing 3rd spot in his first Macau F3 Grand Prix. A very unique performance for a Macau rookie. On top of that, Ralf set the high speed record during the weekend: 273,4 km/h.!
Frits van Amersfoort, founder and team principle: "Our cars were competitive all weekend. Especially because we managed to get grip on limiting the tire degradation. And that proved to be the crucial factor this Macau Grand Prix. We also were very pleased by the power of our Mercedes-Benz engines, who helped us on straights. The outcome was something to be proud of: two top six results, including the second podium result in three editions. Both Ralf and Pedro did an excellent job in difficult and chaotic circumstances."