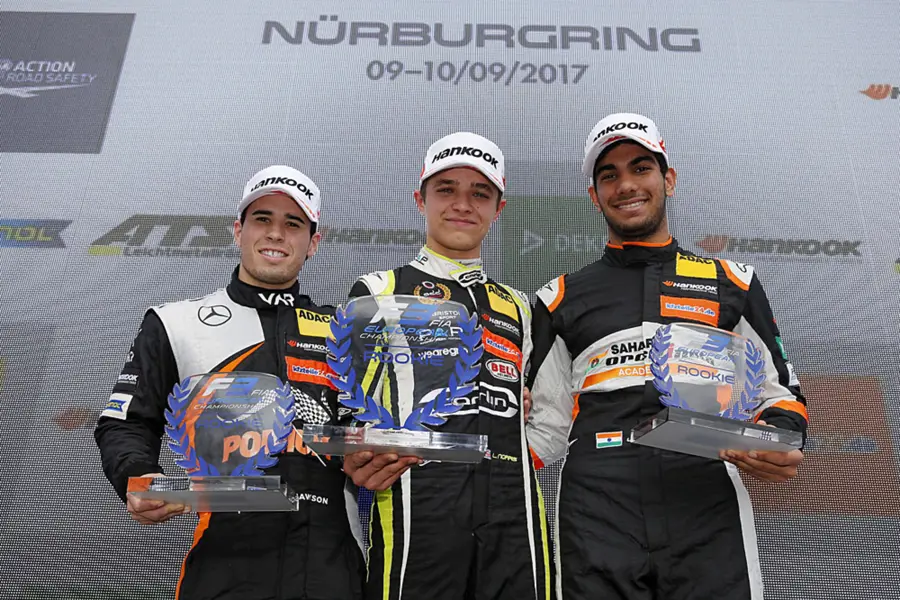 Maiden Formula 3 podium for Joey Mawson
19/09/2017
It was raining cats and dogs at the Nurburgring during the 8th round of the FIA F3 European Championship. Especially on Saturday. In these difficult conditions our Formula 3 drivers managed to perform strongly. Joey Mawson rocketed towards his first overall F3 podium result, while F3 newcomer Max Defourney scored a Rookie podium finish. With a sixth position it was Harrison Newey who was the best performing Van Amersfoort Racing driver in the final race on Sunday.
He was that close to a overall podium for a number of times earlier this season. This weekend reigning ADAC Formula 4 champion Joey Mawson rewarded himself for the progress he makes this season. In dreadful wet conditions the Aussie showed all his skills: passing opponents, keeping cool, not making mistakes and fending off the pressure of the drivers behind him. 
Starting from 8th position Joey climbed the ranking towards a splendid third position, being his first overall Formula 3 podium result. Joey visited the podium twice, because he also was the second best Rookie in the field. In the second race Joey also collected healthy points being seventh. A lack of luck double crossed a strong result in the final race. He was pushed off by another driver in 4th position, was forced to get a fresh rear tire and then hit another competitor in his eager to fight his way up front.
In his first ever F3 racing event Max Defourny proved his skills immediately. In the hard conditions during the first race the Belgian Rookie raced in 8th position until he made a little driving error. Nevertheless the brave hearted drive brought him P11. On Sunday he ended his Formula 3 debut with a first top 10 result, finishing ninth and securing a third place in the Rookie ranking. So the champagne already sprayed for the talented Belgium. 
Harrison Newey made some impressive progress over the weekend. In the second race he already managed to score yet another top 10 finish. The Briton crossed the flag in 8th place after a steady race, just behind his teammate Joey Mawson. In the last appointment at the demanding Nürburgring track it was Harrison who was the best performing Van Amersfoort Racing driver. After fending off Maximilian Gunther and Joel Eriksson his faultless drive resulted in sixth place, taking 8 championship points home. For our Brazilian Pedro Piquet it was a weekend to forget quickly. His car was hit twice by another driver and in the pouring rain he got stuck in the gravel.
Rob Niessink, CEO of Van Amersfoort Racing: "It was a real treat to see Joey Mawson in action in the wet during the first race. The third place was well deserved after the progress he has made so far. Compliments also for Max Defourny. He is adapting real quick to driving a Formula 3 car. As for Harrison: he scored good point again in two races, while Pedro unfortunately ran into bad luck. In general the performance of the cars and the team is encouraging towards the two final events."
Race 1 (20 laps)
1. Lando Norris Carlin Dallara/Volkswagen 35m11.010s
2. Jake Hughes HitechGP Dallara/Mercedes 17.562s
3. Joey Mawson Van Amersfoort Racing Dallara/Mercedes 35.435s
11 Max Defourny Van Amersfoort Racing Dallara/Mercedes 53.189s
12 Harrison Newey Van Amersfoort Racing Dallara/Mercedes 1m08.616s
- Pedro Piquet Van Amersfoort Racing Dallara/Mercedes Retirement
Race 2 (26 laps)
1. Jake Hughes HitechGP Dallara/Mercedes 35m37.113s
2. Lando Norris Carlin Dallara/Volkswagen 0.539s
3, Callum Ilott Prema Powerteam Dallara/Mercedes 12.767s
7. Joey Mawson Van Amersfoort Racing Dallara/Mercedes 26.790s
8, Harrison Newey Van Amersfoort Racing Dallara/Mercedes 33.639s
17. Pedro Piquet Van Amersfoort Racing Dallara/Mercedes 48.108s
18, Max Defourny Van Amersfoort Racing Dallara/Mercedes 49.647s
Race 3 (25 laps)
1. Lando Norris Carlin Dallara/Volkswagen 35m44.949s
2. Jake Hughes HitechGP Dallara/Mercedes 0.794s
3. Ralf Aron HitechGP Dallara/Mercedes 2.197s
6. Harrison Newey Van Amersfoort Racing Dallara/Mercedes 19.698s
9. Max Defourny Van Amersfoort Racing Dallara/Mercedes 24.961s
13. Pedro Piquet Van Amersfoort Racing Dallara/Mercedes 40.555s
20. Joey Mawson Van Amersfoort Racing Dallara/Mercedes 3 Laps