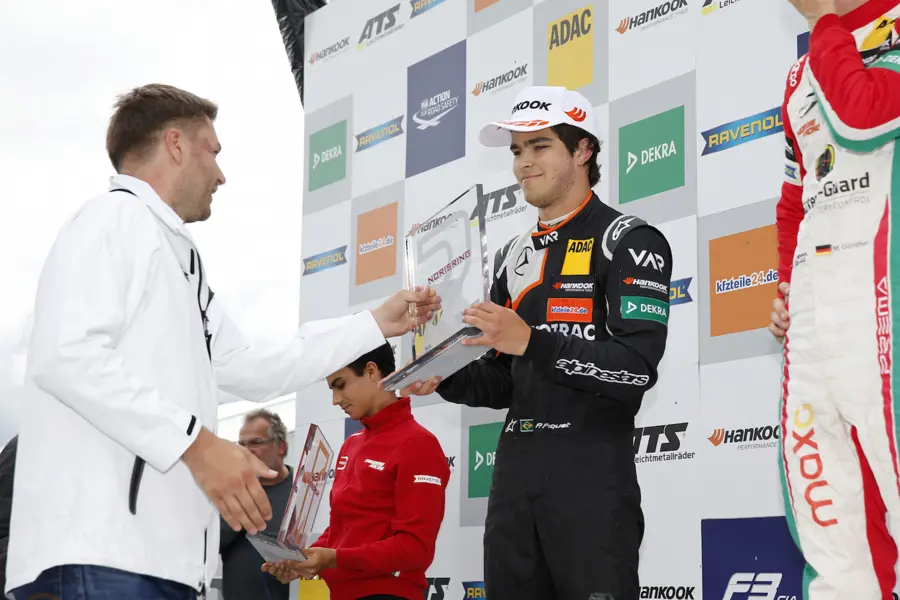 Maiden F3 podium for Pedro Piquet
06/07/2017
The differences were never this small before at the Norisring. Racing the characteristic four corners lay-out in the heart of Germany was a game of tenths of a second. After many close fights Van Amersfoort Racing scored a podium result with Pedro Piquet. Just before his 19th birthday the Brazilian bagged his maiden F3 podium finish with a P2 in the opening race.
Pedro Piquet was a (young) man on a mission during the 5th round of the FIA F3 Formula 3 Championship. He made his mark with fastest times in the first and second free practice. In the qualifying session for race 1 he scored a second row start in third. 
In the turbulent opening race Pedro kept cool when two cars collided in front of him. He initially finished third but was promoted to second after another competitor received a penalty. It marked our first podium finish of 2017 and the first ever podium result in European F3 for Pedro.
Close behind him it was Harrison Newey who made serious progress from 10th on the grid to a strong point scoring fifth place. Newey and our Aussie driver Joey Mawson were battling each other almost the entire race, until Joey was forced into the wall after contact with his rookie opponent Jehan Daruvala.
Also in the second race it was Pedro who gave Van Amersfoort Racing the best result. He hold on to his starting position finishing in 6th, Harrison was on his tail in 7th, while Joey battled his way up from P16 to P13.
The qualifying session for the third race made clear what makes the difference at the Norisring. Getting a tow on at the straight resulted in an advantage of a few tenths of a second since the speed builds up to 240 km/h. Unfortunately our drivers missed out the drag and had to start outside the top 10.
In the final race Joey showed how much he learned about racing this street track in his maiden weekend at the Norisring. From 15th position the Aussie made up four positions, just missing out a top ten result in 11th position. Harrison finished in 15th after being hit by another driver at the start. And also Pedro had to park his car after another driver ran into him at the exit of the first corner. 
Rob Niessink, CEO Van Amersfoort Racing: "Of course we are happy with our first F3 podium result in 2017. It was a pleasant surprise to see how Pedro converted his progress as a racing driver into an second place at this difficult track. Harrison was unlucky in the last race, but added two top 10 results to his portfolio. For a Norisring rookie Joey did a solid job. With a little bit more luck top 10 results were realistic. Our overall speed gives us confidence for the rest of the season."
Round 5 FIA F3 European Championship at the Norisring
Race 1 (38 laps)
1.    Maximilian Gunther    Prema Powerteam    Dallara/Mercedes    33m54.166s
2.    Pedro Piquet    Van Amersfoort Racing    Dallara/Mercedes    1.507s
3.    Guan Yu Zhou    Prema Powerteam    Dallara/Mercedes    2.134s
5.    Harrison Newey    Van Amersfoort Racing    Dallara/Mercedes    15.640s
-    Joey Mawson    Van Amersfoort Racing    Dallara/Mercedes    Retirement

Race 2 (42 laps)
1.    Lando Norris    Carlin    Dallara/Volkswagen    34m15.834s
2.    Jake Hughes    HitechGP    Dallara/Mercedes    1.134s
3.    Maximilian Gunther    Prema Powerteam    Dallara/Mercedes    2.176s
6.    Pedro Piquet    Van Amersfoort Racing    Dallara/Mercedes    4.554s
7.    Harrison Newey    Van Amersfoort Racing    Dallara/Mercedes    5.074s
13.    Joey Mawson    Van Amersfoort Racing    Dallara/Mercedes    14.198s
Race 3 (39 laps)
1.    Jehan Daruvala    Carlin    Dallara/Volkswagen    34m29.733s
2.    Maximilian Gunther    Prema Powerteam    Dallara/Mercedes    0.458s
3.    Lando Norris    Carlin    Dallara/Volkswagen    3.088s
11.    Joey Mawson    Van Amersfoort Racing    Dallara/Mercedes    10.158s
15.    Harrison Newey    Van Amersfoort Racing    Dallara/Mercedes    23.380s
-    Pedro Piquet    Van Amersfoort Racing    Dallara/Mercedes    Retirement
Championship standings
1.Maximilian Gunther 236
2.Joel Eriksson 202
3. Lando Norris 198
9.Harrison Newey 67
12.Pedro Piquet 44
14.Joey Mawson 36
Rookie championship
1. Lando Norris 300
2. Jehan Daruvala 280
3. Mick Schumacher 224
4. Joey Mawson 175