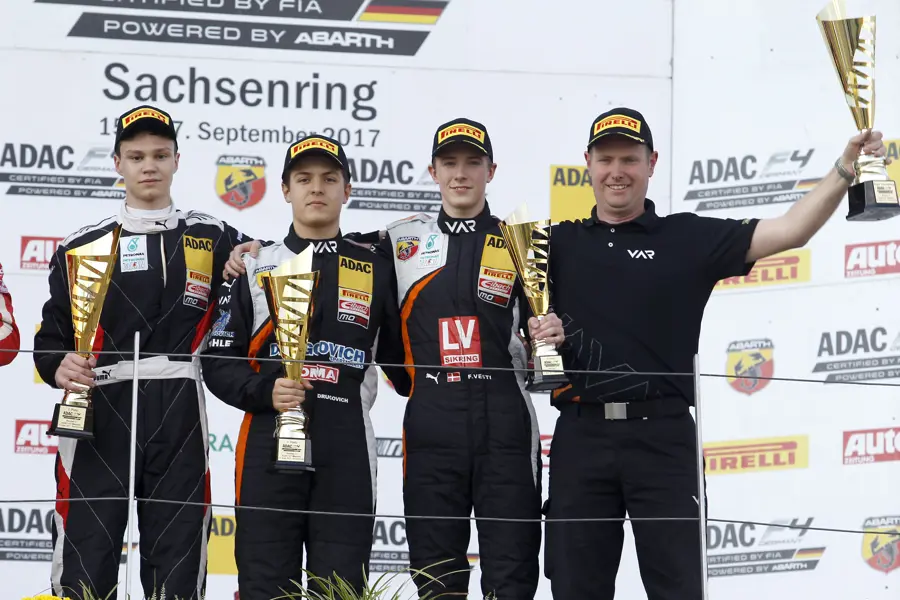 First 1-2-3 victory in history of Van Amersfoort Racing
20/09/2017
Van Amersfoort Racing has been racing since 1975. This Sunday we wrote a new chapter in our history book: our Formula 4 drivers Felipe Drugovich, Artem Petrov and Frederik Vesti swept the podium in the third and final race during the ADAC F4 event at the Sachsenring.
The excellent result in the final race of the 6th championship round, was also a welcomed result for our title contender Felipe Drugovich. After securing healthy point in Saturdays race 1 (p7) the Brazilian (17) was eliminated by Kim-Louis Schramm in the second race leaving Felipe empty handed.
Felipe bounced back in the final race. Directly after the start he moved up from fourth to second. Two restarts later, with nine minutes to race, he was able to pass his debuting Russian teammate Artem Petrov. Once in front Felipe showed his pace, making the win even more impressive with a clear margin of 2,126 seconds in a handful of laps. It marked his fifth win on the season.
The performance of Artem Petrov can also be ranked as very impressive. The 17 year old Russian kept cool from pole position and collected his first podium finish. Considering it was his first event with Van Amersfoort Racing and his first acquaintance with the technical Sachsenring puts a perspective on his performance.
Frederik Vesti ended his strongest overall performance of the year on a high. The youngster from Denmark already scored two top 10 results on Saturday and Sunday morning (p8 and p5). Frederik did it all right in the chaotic third race by starting and finishing in third position. It was his second best performance of the season. In the overall ranking he made big progress into 9th spot.
Just outside the spotlights, also Louis Gachot made his mark at the Sachsenring. After missing that bit of luck in the first two races, the Briton was among the smartest in the chaotic final race. Starting from p22 Louis stayed calm and focused at the two restarts, resulting in an impressive catch up which took him to an excellent 12th position. A progress of 10 positions!
Jeroen de Jong, team manager of Van Amersfoort Racing F4 squad: "After the second race we all felt quite unhappy about what happened to Felipe. As a team we bounced back with a fantastic 1-2-3 clean sweep. An unique performance. Looking at the larger picture, Felipe still has a chance to win the title, but we definitely need some luck. As for the final: we will not only focus on the main championship contender but on the entire team. At Hockenheim we will act as a team."
Standings ADAC Formula 4 top 3
1. Marcus Armstrong 212; 2. Juri Vips 210,5; 3. Felipe Drugovich (Van Amersfoort Racing) 190,5.