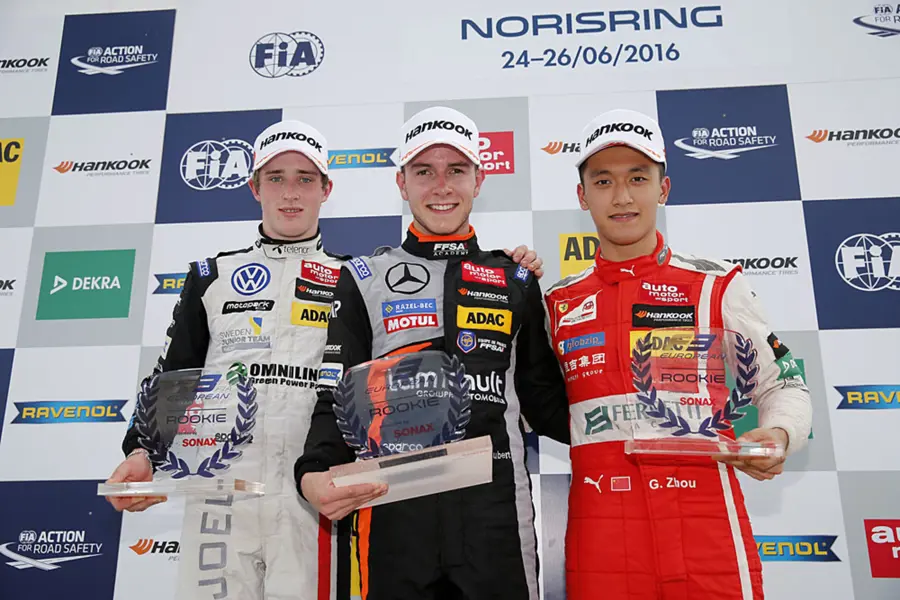 Winning ways for F3 rookie Anthoine at the Norisring
28/06/2016
At the halfway mark of the season F3 rookie Anthoine Hubert maximized his progress into his maiden victory in the FIA F3 European Championship. At the Norisring the Van Amersfoort Racing driver completed his breakthrough with a second place in race 3. Callum Ilott, the fastest driver in qualifying, had to work around a triple grid penalty to score decent championship points. Formula 3 rookies Harrison Newey and Pedro Piquet also went home with point scoring results.
Something out of the ordinary is fair to describe the Norisring, the 2,3 kilometer long street track in the heart of Nuremberg. The walls are unforgiving, the hairpins tight and the young guns have to stay very focused on braking lap after lap on the relatively short circuit. Van Amersfoort Racing dominated both qualifying sessions with pole positions by Callum for race 2 and 3, and front row results also for Anthoine. Unfortunately our Briton could not enjoy the fruits of his flying laps after and engine change before qualifying, which left him with a 10 position grid penalty for this weekend.
Race 1: Pedro and Anthoine into the points
Starting from 12th position Callum climbed the rankings in a blaze. After 17 laps the Briton was already in third position. Unfortunately he could not finish his mission after a braking error in the Grundig hairpin. Callum made contact with Joel Eriksson and both were forced to retire. 
It was Anthoine who became the best qualified VAR driver in eight place after a tumultuous race with three safety car interventions. Pedro and Harrison dueled each other for tenth position and thus the last championship point. The fierce battle between both rookies and a number of other competitors surrounding them led to contact; this race accident ended Harrisons appearance immediately. Pedro finished in ninth, collecting two championship points.
1. Lance Stroll Prema Powerteam 38 laps
2. Niko Kari Motopark +1.064s
3. Nick Cassidy Prema Powerteam +2.258s
8. Anthoine Hubert Van Amersfoort Racing +7.883s
9. Pedro Piquet Van Amersfoort Racing +8.737s
Callum Ilott, Harrison Newey dnf
Race 2: first victory for Anthoine
Anthoine inherited the pole position from his teammate Callum and used this opportunity to the full. The Frenchman showed a faultless performance in his Mercedes-Benz powered Dallara F316. The F3 rookie overcame a series of restarts in the race over 36 laps and fended of the numerous attacks by championship leader Lance Stroll. The result was a milestone: the maiden Formula 3 victory by Antoine.
Callum did a strong job working his way up from 15th to 7th position, a push forward of eight places which was rewarded with six championship points. The race of both Harrison and Pedro ended in a bang after their cars were hit from behind by another competitor. 
1. Anthoine Hubert Van Amersfoort Racing 36 laps
2. Lance Stroll Prema Powerteam + 0,532
3. Maximillian Günther Prema Powerteam +1,461
7. Callum Ilott Van Amersfoort Racing + 4.882
Pedro Piquet, Harrison Newey dnf
Race 3: another podium visit for Anthoine 
The last challenge of the weekend brought another success for Van Amersfoort Racing. Anthoine converted his second front row start into his second podium finish in a row. In another faultless drive he confirmed his racing skills once more with a second position behind Lance Stroll. It may well be the beginning of a new chapter for the Frenchman.
Also in the last race Callum made the most of his weekend by scoring another seventh position. A strong performance concerning the fact that the race was rather chaotic and counted only nine free laps. Also Harrison stayed out of trouble and finished in the top 10 earning one valuable championship point. Pedro crashed his car but stepped out unharmed. 
1. Lance Stroll Prema Powerteam 24 laps
2. Anthoine Hubert Van Amersfoort Racing + 0.787
3. Sergio Sette Camara Motopark + 1.985
7. Callum Ilott Van Amersfoort Racing + 4.804
10. Harrison Newey Van Amersfoort Racing + 9.074
Pedro Piquet DNF
"We have got a special feeling with the Norisring. Like before we were really fast here, like the two pole positions of Callum and second fastest times by Anthoine showed. It was very sad to see that Callum could not enjoy the results of his flying laps due to a penalty. He was undoubtedly the fastest man on the track this weekend, so one or more podium results should have been well earned. For Anthoine all pieces of the puzzle came together at the Norisring. Well deserved after hard work. Pedro and Harrison had a rather difficult maiden visit at this track, but both managed to collect points. And that is remarkable", said Rob Niessink, CEO of Van Amersfoort Racing.
Championship standings
1. Lance Stroll 234; 2. Maximilian Gunther 123; 3. Callum Ilott 140; 13. Anthoine Hubert 66; 17. Pedro Piquet 9; 18. Harrison Newey 8.