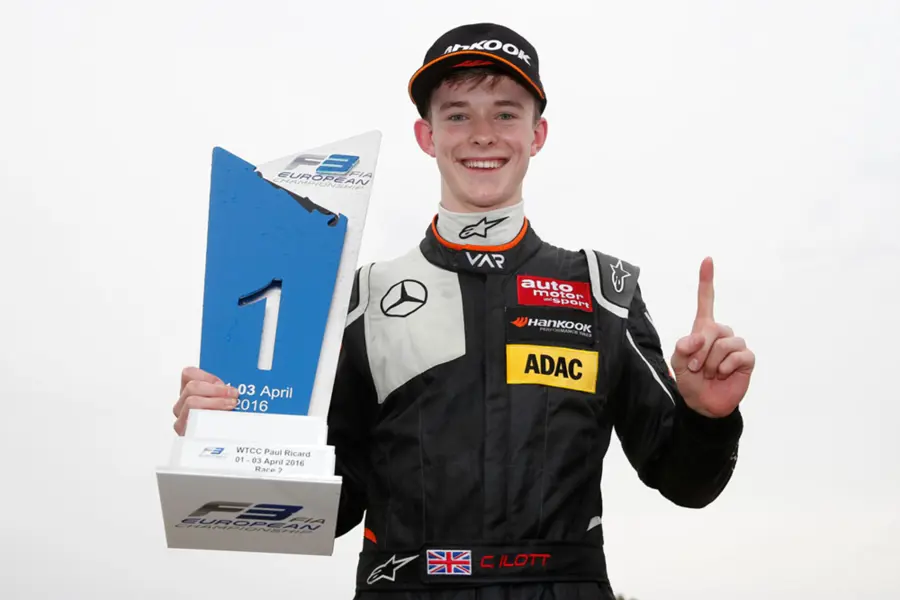 The first victory is in the bag!
07/04/2016
The FIA Formula 3 European Championship 2016 kicked off in the south of France. Van Amersfoort Racing was present at Circuit Paul Ricard with four Mercedes-Benz powered Dallara F316's. In Le Castellet it was Callum Ilott (17) who scored his maiden F3 victory in the second race, after a start of the weekend in flames. Anthoine Hubert (19) en Harrison Newey (17) collected their first points, while Pedro Piquet (17) definitely showed his potential but lacked a little bit of luck.
On Thursday the car of Briton Callum caught fire after a start simulation during the free practice. Due to regulatory safety procedures the chassis had to be checked by Dallara in Italia, which forced us to build a new car for Callum. "Our mechanics managed to assemble a complete new car in warp speed", complemented Frits van Amersfoort his squad. "We are grateful to our colleagues T-Sport for loaning their spare chassis."
The qualifying session for the maiden race of the 2016 proved to be a bit of a gamble due the drying track. We rolled out on wets, but changed to slicks in the hunt of a fast lap. We missed out a top 10 result, but fought our way back in the sessions for the second and third race: in both occasions F3 rookies Harrison Newey and Anthoine Hubert, plus Callum Ilott claimed a starting position among the fastest 10.
Race 1: first F3 points for Harrison
Starting from p12 Harrison battled his way into the points during the season ouverture. The Briton proofed the fastest of the VAR train in 9th position (thus scoring 2 points), with behind him Callum in 10th. Callum started in 21st and last position and managed to out brake his teammate Pedro five laps before the end and therefore collected the last championship point. Our Brazilian boy scored a very promising p11 in his first outing in FIA European F3. One position off the points. Anthoine had an unfortunate start - he stalled - and finished 17th.
Race 1 results
1.Lance StrollPrema Powerteam25 laps
2.Nick CassidyPremaPowerteam+ 0.769 sec.
3.George RussellHitechGP+ 6.983
9.Harrison NeweyVan Amersfoort Racing+ 19.159
10.Callum IlottVan Amersfoort Racing+ 19.718
11.Pedro PiquetVan Amersfoort Racing+ 20.747
17.Anthoine HubertVan Amersfoort Racing+ 34,428
Race 2: briljant Callum wins
We entered the winning league again thanks to an impressive drive by Callum. After a solid start from p6 the Briton avoided the chaos at the start, went to second in the first lap and then waited for his chance to pass Nick Cassidy. In slippery conditions Callum kept cool after his opponent made a slide and took over the lead in lap 15. In a faultless race Callum passed the checkered flag after 23 laps to celebrate his maiden victory in the FIA Formula 3 European Championship.
Harrison was unfortunate after he got drag into the big starting crash from p10 and was forced to retire. Anthoine fought a fierce battle for fourth place after a solid start from ninth. A little mistake in the closing stages of the race forced him to drop two places into 8th. Nevertheless a good performance. Pedro had a point finish in sight until contact with an opponent made him drop back to 14th.
Race 2 results
1. Callum IlottVan Amersfoort Racing23 laps
2.Nick CassidyPrema Powerteam+ 1.247 sec.
3.Guan Yu ZhouMotopark+ 1.840
8. Anthoine HubertVan Amersfoort Racing+ 5.098
14. Pedro PiquetVan Amersfoort Racing+ 9.762
Ret. Harrison NeweyVan Amersfoort Racing
Race 3: Anthoine on six
After an intense battle almost the entire race between Anthoine and Harrison our French driver finished sixth place.
The 19 year old proved to be the best positioned Van Amersfoort Racing driver this time. While battling his teammate Harrison got delayed by an incident and dropped back to 14th position. Callum started from third position but stalled at the start. His catch up reached to 12th position, just outside the points. Pedro Piquet retired from the final race with suspension damage.
Results Race 3
1.Maximilian GuntherPrema Powerteam25 laps
2.Nick CassidyPrema Powerteam+ 0.251 sec
3.Joel ErikssonMotopark+ 1.312
6. Anthoine HubertVan Amersfoort Racing+ 11.062
12. Callum IlottVan Amersfoort Racing+ 22.546
14. Harrison NeweyVan Amersfoort Racing+ 26.584
Ret. Pedro PiquetVan Amersfoort Racing
Standings FIA F3 European Championship (after round 1)
Drivers: 1. Nick Cassidy 54; 2. Lance Stroll 35; 3. Maximilian Gunther 35; 4. Callum Ilott 26 (Van Amersfoort Racing); 11. Anthoine Hubert 12 (Van Amersfoort Racing) ; 16. Harrison Newey 2 (Van Amersfoort Racing).
Teams: 1. Prema Powerteam 74; 2. Motopark 56; 3. HitechGP 47; 6. Van Amersfoort Racing 30.