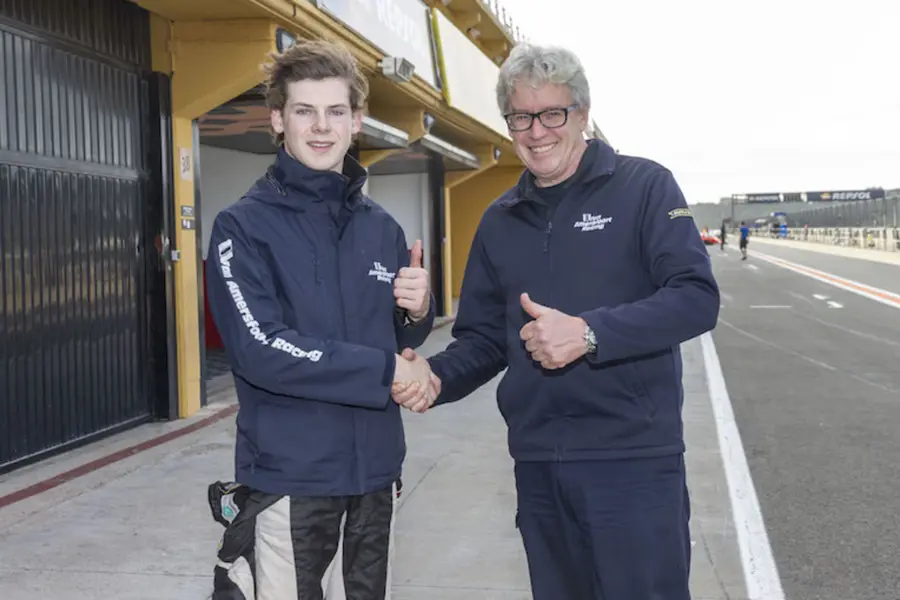 Harrison Newey stays with VAR to debut in FIA F3 EC
13/01/2016
Huizen, the Netherlands, 13 January 2016 - British racing driver Harrison Newey continues his career at the Dutch outfit Van Amersfoort Racing (VAR). After racing in  BRDC F4 and the German ADAC F4 (with VAR) Harrison will race one of our Mercedes-Benz powered Dallara's in the 2016 FIA Formula 3 European Championship.
In his first full season in single seater racing the 17-year old Briton gained precious experience in two championships: combining 6 rounds of the German ADAC Formula 4 championship and a full season in BRDC Formula 4 Championship. Harrison ended runner up in the British championship with two wins and twelve further podium positions under his belt.
Harrison Newey had his first taste of Formula 3 in several tests with us, for the first time at a soaking wet Motopark Oschersleben. On the way to his maiden Formula 3 race at Paul Ricard (France, 1-3 April) the F3 rookie will attend  a series of test day's, including three official F3 tests. In order to be prepared for the battle with the best F3 drivers around the globe, Harrison also competed in the MRF Series throughout the Middle East and Asia this winter. 
Frits van Amersfoort, Team Principal of Van Amersfoort Racing, welcomes the latest newcomer to his Formula 3 squad next to Pedro Piquet and Callum Ilott: "It is great news that Harrison is racing with us in F3 this season. Of course we know him from F4 last season and we enjoyed working with him greatly. He is talented, capable and dedicated; we are thrilled to have him with us. 
The experienced Team Principal praises Harrison's dedication to succeed as a racing driver: "Harrison's work ethic, which he showed last season, will give him a good advantage as there is no magic in F3; it is all about hard work and determination. He is still a young lad but he shows a very impressive level of dedication to his racing which is a very important ingredient to have."
Harrison Newey is very happy to sign with Van Amersfoort Racing (VAR) for his first season in the FIA Formula 3 Championship. "I know Frits and the team well now after competing with them in Germany and also doing my first F3 tests. I am hugely motivated to race in one of the world's most competitive single-seater series. I think that with VAR it will be the ideal grounding for me to further my racing ambitions and to acquire all the attributes to gain as much experience as possible with a new car and mostly new tracks. I am really looking forward to tackling these fresh challenges."