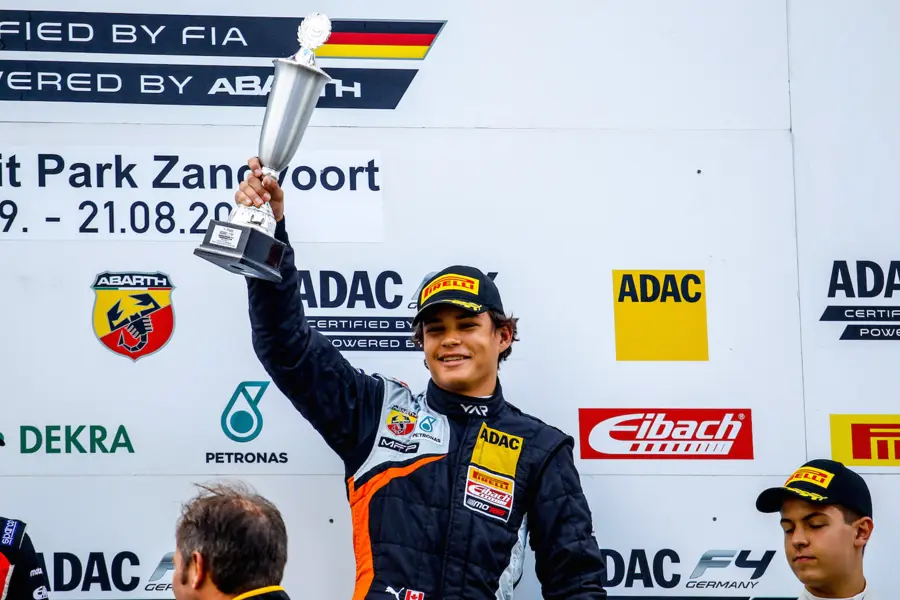 Collecting two victories on home ground
23/08/2016
For the penultimate round of ADAC Formula 4 we visited our home track: Circuit Park Zandvoort. Racing the famous dunes track is never dull, like we experienced once again. Van Amersfoort Racing went home with two victories. Joey Mawson made a big step towards the championship by winning the first race, while Kami Laliberte collected his maiden F4 win in the final race.
Zandvoort, located in the dunes near the North Sea, is something special for young racing drivers. The classical lay out with height differences and high speed corners make it an exciting challenge, especially because the weather always plays his part. Wind blows sand onto the track resulting in irregular grip differences. And if it is raining the water flow varies depending on which part you are racing.
In qualifying Joey showed his speed once again by setting the fastest lap for race 1. In his run for a race 2 flying lap he was stopped by a red flag. That case of bad luck avoided him to improve his 12 fastest lap time. Kami impressed by a steady performance, resulting in two top 10 results: 6th in race one, 5th for race two. Leonard and Moritz used their qualifying sessions to get use to the special characteristic of Zandvoort.
Race 1: Joey p1, Kami p8, Moritz p20, p25 Leonard
With a perfect from start to finish victory Joey (20) collected his 8th victory of the season. When the lights faded our championship leader pulled away and managed to get out of the grip of his opponents for the full 17 laps. Even after a safety car period the Aussie once again showed his speed by winning in a dominant way, while securing the fastest lap time of the race too. Championship contender Mick Schumacher finished third, so Joey increased his championship lead. 
Kami lost two positions during the race, but the 16 year old Canadian managed to hold on to a solid eight place, resulting in scoring four healthy championship points. Both Moritz (19) and Leonard (17) battled their way in the second half of the grid.  
Race 2: Kami p6, Moritz p13, Joey p27, Leonard p28 
During race 2 Kami entered the point scoring ways again and our young Canadian continued his string of strong performances by finishing sixth. He managed to keep more experienced racers behind him and collected eight valuable championship points.
Moritz made a leap forward from 17th on the grid and 13th at the finish. A clear indication for finding the speed at Zandvoort. Leonard visited the pits for a new front wing after contact and returned in last position. Starting 12th, Joey also damaged his front wing in the battle for seventh position. After his pitstop the Aussie finished outside the points.
Race 3: Kami p1, Joey p8, Moritz p17, Leonard p23
The final event at Zandvoort must be the shortest race in the history of the ADAC Formula 4. A very wet track caused a string of crashes, jams and safety car inferences. In all that chaos Kami kept cool. The young Canadian collected his maiden Formula 4 win in this odd five laps race after a strong start and some clever overtaking and controlling the difficult circumstances best on track.
After multiple collisions the race was red flagged and Joey finished in 8th position and still collected points after his start from p10 in this reversed grid race. Moritz and Leonard, who was ceased by a technical issue, finished in the same positions they started. 
The showdown for the title gets his final chapter at the Hockenheimring during the season final in the last weekend of September. Joey still leads the championship over Mick Schumacher with a margin 39 points, while 75 points are at stake during the final encounter. We look forward to an exiting run down for the title. 
Championship standings after 21 races
1. Joey Mawson (Van Amersfoort Racing) 324; 2. Mick Schumacher 285; 3. Mike-David Ortmann 223; 13. Kami Laliberte (Van Amersfoort Racing) 57,5; 18. Leonard Hoogenboom (Van Amersfoort Racing) 25; 21. Moritz Mueller-Crepon (Van Amersfoort Racing) 16.
Team championship after 21 races
1. Prema Power 390,5; 2. Van Amersfoort Racing 368; 3. US Racing 330.