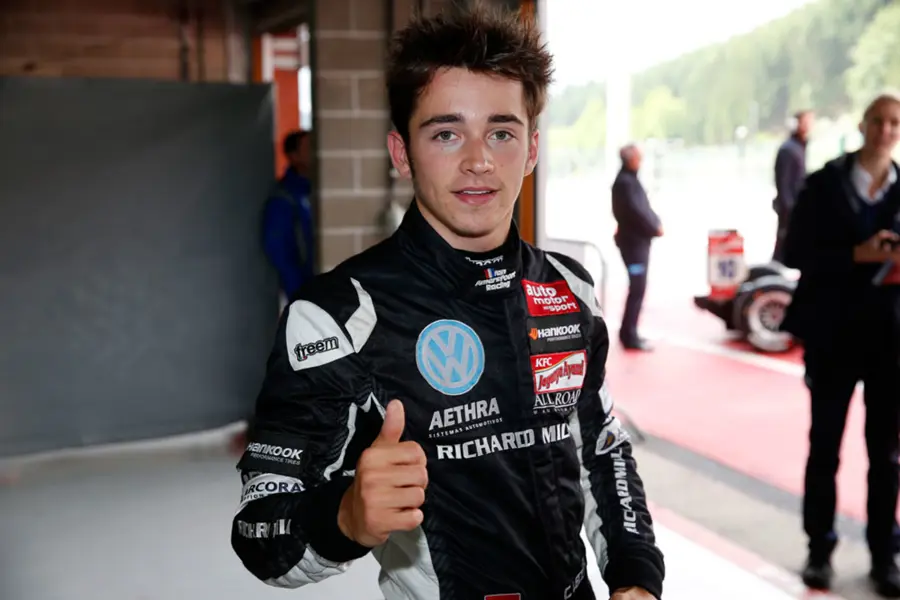 Serious business at the Ring
24/09/2015
The tenth meeting of the FIA F3 European Championships at the German Nürburgring marks the penultimate round of the championship. The title chase reaches his final fase with Van Amersfoort Racing driver Charles Leclerc as one of the remaining title contenders. The results at the Ring will be crucial.
Felix Rosenqvist is in the lead with 378 point, followed by Antonio Giovinazzi (343,5) and in third our Monegasque F3 rookie, who collected 324,5 points so far. In order to keep his title hopes alive, Charles is a man with a mission at the ring. 
Just like our other two F3 rookies Alessio Lorandi (from Italia) and Arjun Maini (from India) and the other young guns Charles will get three chances this weekend to make a difference. Three races of 25 laps are scheduled at the famous Eifel track.
The field of Formula 3 cars will race the shorter version of the F1-track, the 3,629 km long sprint lay out. The track's location in the Eifel region can mean very unpredictable weather with the possibility of rain showers, fog and low temperatures, which adds to the challenges.
Where Charles will continue his hunt for the title, both Alessio and Arjun will try to build on the top 10 results they collected during the 25th Masters of F3 at Zandvoort last weekend. We have good faith in a happy ending since we proved to be competitive at the Nürburgring in 2014. But as we all know: past performance is no guarantee of future results. Which is certainly the case in motorsport…
Schedule Nürburgring FIA European F3 (10th round)
Race 1: Saturday, 26 september 11:05 hrs. 
Race 2: Saturday, 26 september 16:40 hrs.
Race 3: Sunday, 27 september 9:45 hrs.
Current standings prior to the 10th round of the FIA F3 EC:
1. Felix Rosenqvist 378; 2. Antonio Giovinazzi 343,5; 3. Charles Leclerc (Van Amersfoort Racing) 324,5.; 18. Alessio Lorandi (Van Amersfoort Racing) 26.; 19. Arjun Maini (Van Amersfoort Racing) 23.