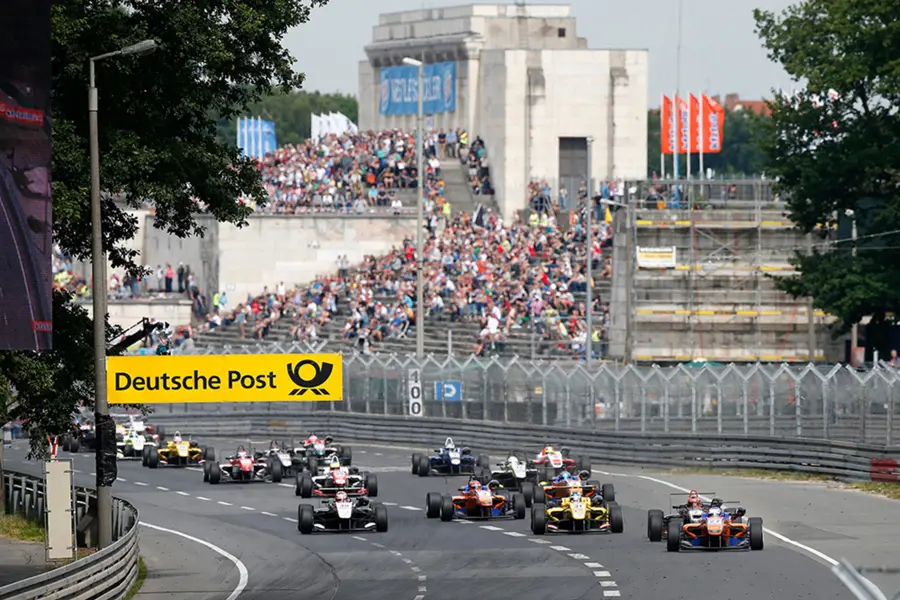 And now for something completely different...
25/06/2015
From the rollercoaster called Spa-Francorchamps to racing the streets in Nuremberg. The 6th round of the FIA F3 European Championship takes Van Amersfoort Racing to the famous Norisring this weekend. A memorable circuit for us, because we won here back in 1998 with Christijan Albers and last year with Max Verstappen, who won all three races.
Last week we raced the longest circuit of the championship (7.004 km) in Belgium, now we challenge the shortest track of the year. One lap Norisring takes only 2300 metres, but there will be no dull moments for our three drivers Charles Leclerc, Alessio Lorandi and Arjun Maini.
The street racing character means the guard rail is always close to end your race. The broad variety in types of asphalt and - for example - the narrow turn 2 hairpin gives racing the Norisring an unmistakable character. Also special: more than 100,000 spectators who flock to the Zeppelintribüne, the 360 metres long iconic stone grandstand.
Our Monegasque driver Charles Leclerc will start the action as the man to beat, since he took the lead in the championship after strong results at Spa. We are confident we can support Charles in the hunt for new succes. Although results from the past are no guarantee, and taken in Charles is - just like Alessio and Arjun - a true F3 rookie.
Our Italian hero Alessio is getting to grips with his Dallara-Volkswagen better and better. After three top 10 results in Belgium his challenge will be to become a regular point scorer in the FIA F3 European Championship. Arjun, our racer from India, will also continue the hunt for point results after a strong performance in Pau and to little luck at Spa. 
Schedule Norisring FIA European F3 (6th round)
Race 1: Saturday 27 June 11:30 hrs. (42 laps)
Race 2: Saturday 27 June 18:10 hrs. (42 laps)
Race 3: Sunday, 28 June 10:40 hrs. (42 laps)