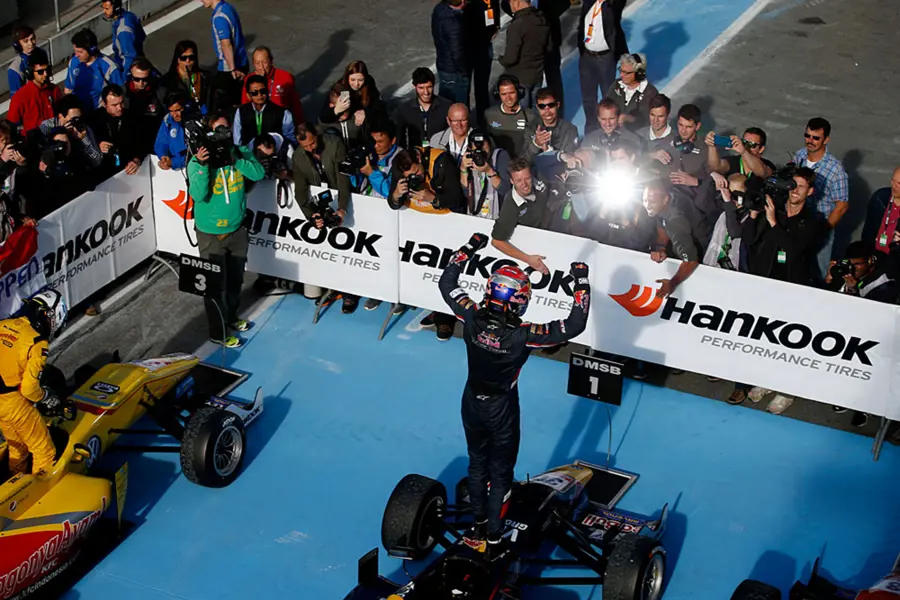 VAR ends season with a superb win with Max
19/10/2014
What a season! And the final weekend of the FIA European Formula 3 Championship at Hockenheim was another memorable one for Van Amersfoort Racing. Max Verstappen took his tenth win of the year to cap off an impressive debut season in cars. Unfortunately, it was not enough to keep hold of second place in the driver's championship. Yagonya Ayam's Tom Blomqvist outscored Max with a victory of his own to take second by nine points.
Our American driver Gustavo Menezes scored three points in two races to take VAR's season tally to 539 points. That total secured the team a fourth place finish in the team standings behind Prema Powerteam, Yagonya Ayam with Carlin and Mücke Motorsport. Jules Szymkowiak was unfortunately unable to add to his points total.     
The last Friday of the European season was an extremely hectic one, with two qualifying sessions. Free Practice started on a damp track, and all VAR drivers were quick from the off. Max then set the fastest time in Q1 to beat Lucas Auer (Mücke Motorsport) to pole position by 0.02 seconds. Gustavo managed a respectable tenth place with Jules 16th. Later that afternoon however, second qualifying was not quite as successful. We scored a ninth, twelfth and seventeenth position for race two with Max, Gustavo and Jules respectively.
Converting pole position into a win is not easy, but Max made it look that way in race one. He immediately sped off with a great start. Then, by putting in consistently fast lap times, he pulled away from second placed Auer to bring home his tenth win of the season. Gustavo gained two positions in the opening lap to find himself P8. Nothing changed during the rest of the race, and he was rewarded with three points for a good performance. Despite a reasonable start, Jules dropped back after having to change his front wing. He eventually finished 22nd.
The second race of the weekend was similar to race one. Gustavo won two places at the start for the second time. This moved him up from P12 to P10. Max overtook one car at the start and later made quick work of Tatiana Calderón (Jo Zeller Racing). Mücke's Nissany was dispatched in the same lap.  The pair were P6 and P10 when the safety car came out. Only because Jordan King (Carlin) came into the pits as the green flags waved again, they moved up to P5 and P9. The rest of the race was a procession and Tom Blomqvist duly won the race after it was red flagged on the final lap.  
On Sunday, there was only one race. The final race of the season, but it was not the climax we had hoped for. Gustavo's engine backfired, causing lots of smoke to come out from the air box. He signalled a problem, which caused a second formation lap. The American did start the race, but was later penalised for having taken his regular position on the grid. Max's start was good, but he could not storm the field like in Imola. He showed his class during a daring move on Ocon, but his march halted at P6. Jules was hit from behind on the opening lap. He started from the back and was powerless to kick on from there.
Max Verstappen was still pleased despite the difficult last two races. "This weekend we did win the first race of course. We also knew it would be difficult to hang on to second place in the championship after the second qualifying session." Reflecting on the season, the young Dutchman said he was "proud of the speed shown throughout the season. I am also very happy that we have won the most races of everyone this season."
Van Amersfoort Racing would like to thank all three drivers for their tremendous efforts this season. Also we wish Max Verstappen all the success in the world at Scuderia Toro Rosso next year. We, along with many Dutchmen, hope he can set alight the F1 paddock, as he has the European F3 scene. We are already looking forward to next year, and also to the Macau Grand Prix. Gustavo and Max will race for us there so keep track from November 13th onwards.