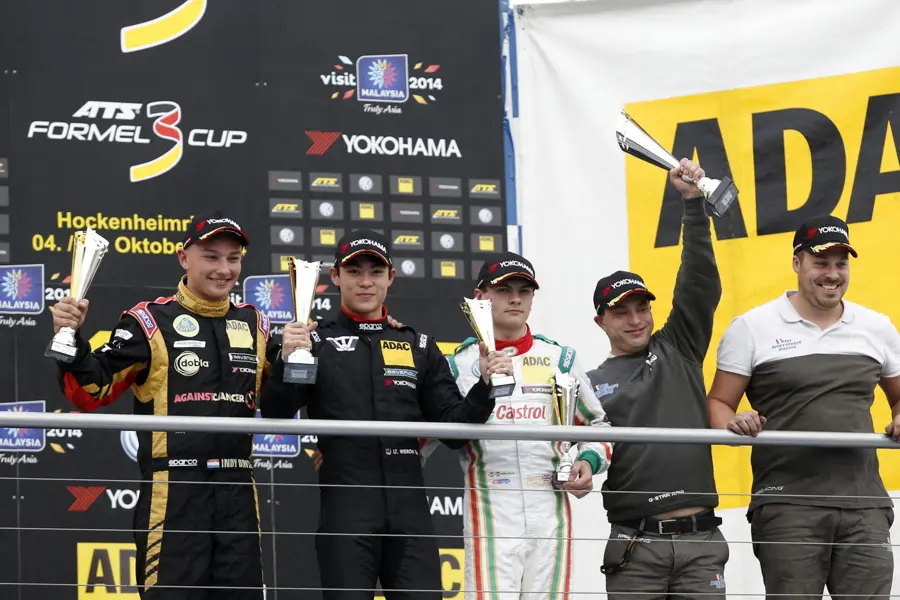 Two great wins to end the ATS Formula 3 Cup Season
10/10/2014
The final race weekend of the ATS Formula 3 Cup season at Hockenheim was all about Malaysian Weiron Tan, who claimed two great victories for Van Amersfoort Racing. He claimed his maiden and second win of the season with impressive performances. His British team mate Sam MacLeod added to the silverware with a third place in the third and final race of the weekend.
The results moved the team into second place in the team standings. Even though Team Lotus had decided the team ranking in their favour (429 points) the previous weekend, Van Amersfoort Racing caught up thanks to Weiron's two victories. We finish the season in second place, having scored 316 points. Motopark follows in third place in the team ranking (279 points).
Weiron started race one on Saturday from fifth place, but moved up to second place at the start. He then overtook Dontje for the lead. While he was briefly overtook by champion Markus Pommer, a stop and go for the latter restored the Malaysian to the lead. Nothing could stop him from there and he grabbed the win amid wild celebrations by the team.
The reversed grid race on Sunday morning was not as successful, with both drivers having started from the back. Weiron was P8 thanks to his win, but Sam MacLeod had suffered a crash in race one, leaving him right at the back. Neither of the two eventually made it to the podium.
How different was it Sunday afternoon. Weiron converted a second row starting berth into his second win of the year by showing impressive pace and yet another good start to get second. Sam finally got to show his pace and scored a third place to make it a double podium for the team.  
After the weekend, Weiron reflected on a challenging 2014 season: "We struggled a lot with the car at the start of the season. After the summer break the team had worked out the problem. Then it was up to me to make the best of it. Podium!"
Team principal Frits van Amersfoort was also present at Hockenheim. He could do nothing but smile about his Malaysian protégé's efforts. "The last weekend of this year's formel 3 cup belonged to Weiron Tan and nobody else. Two perfect wins. Now let's enjoy the party.