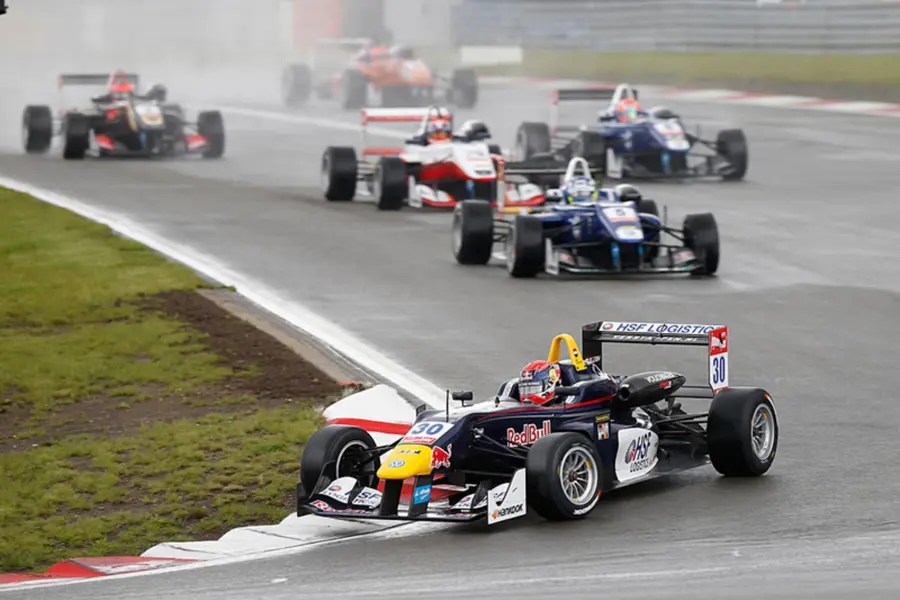 Max wins but title chase seems over
17/08/2014
Despite a commanding victory for Max Verstappen in the first race at the Nürburgring, his championship hopes in the FIA Formula 3 European Championship are effectively over. With it, Van Amersfoort Racing's chances of finishing third in the team's standings have also taken a huge blow. It was an engine failure in race two, that not only cost Max his second win of the weekend, but also gave him a ten place grid penalty for the following three races, thereby halting his title challenge.
Torrential rain welcomed VAR on Friday morning and the showers did not stop until well into the evening. Free Practice was a very wet affair with the field being allowed only a short spell on slicks just before the interval. The lack of dry track time was not rued by an eager Max however, who in the following qualifying session dominated the field to take his second pole position of the season by six tenths. The pole was all the more impressive because he was the outright fastest throughout the drenched 20 minutes. Jules secured a 17th starting berth with Gustavo 19th.
Saturday started as Friday had ended, with a heavy shower. The skies cleared somewhat before the start of the race though, meaning most drivers started on slicks. On a drying track, young Verstappen lost the lead in the opening lap to Antonio Fuoco (Prema Powerteam), but regained it several laps later when the Italian went wide at turn one. Several drivers had started on wets and charged up the field. Max even had to concede the lead to T-sport's Spike Goddard for several laps, but as the track dried out and he burnt up his tyres, Max duly retook it. From there, Fuoco only threatened his lead for a few laps, and Max took his eighth win of the year amid cheers from his team. Gustavo finished 14th and Jules 17th, although the latter had spun when hit from behind at the halfway stage.    
The Nürburgring served up another surprise in the late afternoon. Due to damage to one of the barriers, qualifying was delayed till Sunday morning. The early night did VAR no harm however, because Max was only narrowly beaten to pole by Tom Blomqvist (Yagonya Ayam), despite the handicap of being last in the pit lane and having one flying lap less. Jules still managed a double P16 while Gustavo would be 18th and 20th on the grid.
At the start of race two, Max took advantage of Blomqvist's poor start. Jules and Gustavo were in the bustle, but emerged unscathed in similar racing positions. It remained tight at the front with the front five cars never more than a second behind each other. Max seemed to hang on for his second win of the weekend until his engine failed with six laps to go. Gustavo and Jules moved up several places after some retirements in front of them, and overtaking of their own, to finish 13th and 14th.  
The third race had much of the edge taken away because Max's engine failure made an engine change necessary. The regulations prescribe a ten place grid penalty for this, which threw the Dutchman back to P12 on the grid. His opening lap however was nothing short of phenomenal. As Ocon and Giovinazzi eliminated themselves on the inside of turn one, Max shot past them on the outside to take P8. Three corners later, he dove into a gap on the inside of three cars and emerged in P5. Jules also started well and claimed tenth position. The safety car then neutralised affairs. On the restart, Max immediately made a move on Jordan King (Carlin) for fourth. His next target was Antonio Fuoco. Jules meanwhile, was in a heated battle for P10 with several other drivers and kept his position to score a deserved point. Fuoco thought he would finish third, but Max surprised him in turn one with a late outbreaking move. He took the last podium position behind Auer (Mücke) and Blomqvist as his reward, showing what could have been if he had not retired in race two.      
Although elated with Max's performance, everyone at Van Amersfoort Racing was obviously still greatly disappointed. Not least father Jos Verstappen: "It's hugely disappointing. Max was doing everything right this weekend, right up to the engine failure [in race two]. This is not something the driver or team can be blamed for, but the ten place grid penalty we got for the next three races has probably killed our championship hopes." Max shared his father's disappointment, but showed great maturity in handling it. "It's a real shame that the championship is now as good as over. I can't really do anything about things like this, but it has happened and that's racing."
Van Amersfoort Racing's next race in the FIA Formula 3 European Championship is at Imola, starting on Friday the 10th of October.