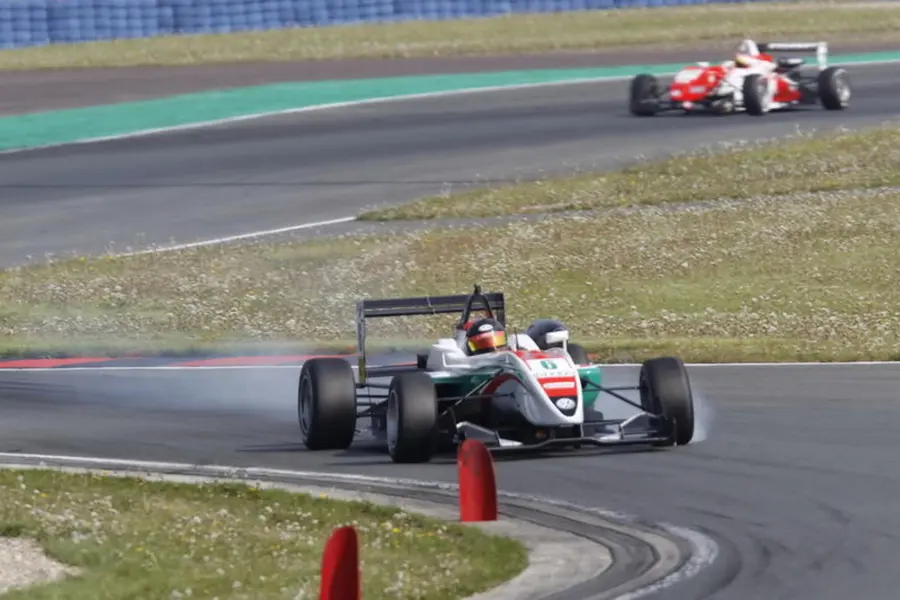 German F3 season kicks off with double podium
28/04/2014
The first of eight racing weekends of the 2014 ATS Formula 3 Cup in the support programme of the ADAC GT Masters is over. Van Amersfoort Racing left the 3.696-km track at Metropolis Motorsportarena Oschersleben with two third place finishes for Sam MacLeod. Weiron Tan was a bit further back but recovered with a solid fifth place in the final race.
The first race on Saturday was not very eventful for MacLeod as he cruised to third, but Tan suffered a very bad start leaving him in last place. He eventually came home in ninth position. The second race on Saturday afternoon however, showcased the best overtaking move of the weekend, and it was Sam MacLeod who made it. Chasing two cars fighting for third place, MacLeod spotted a gap and overtook them both in one bold move. He held on for his second podium finish. Obviously happy he commented: "It was pretty good, especially at the start. I had a bit of a struggle, but luckily everyone was racing quite hard. And with Maximilian and Markus I got a great opportunity to get two in one corner. Then it was quite easy."
The third race on Sunday saw both Van Amersfoort drivers finish in fourth and fifth place. Tan gained three places at the start after making a very good start. He then held on to score good points for the team.
Indy Dontje took the lead in the 2014 Rookie ranking, having scored 60 points. VAR's Sam Macleod follows in second place with 44 points. Nicolai Sylvest scored 30 points and is third in the ranking. The next race is on the 23rd– 25th of May on the Lausitzring.