Thank you for your interest in supporting our team! Any purchase made on our website, big or small, contributes to the successes we book on race circuits throughout Europe...and we thank you for that!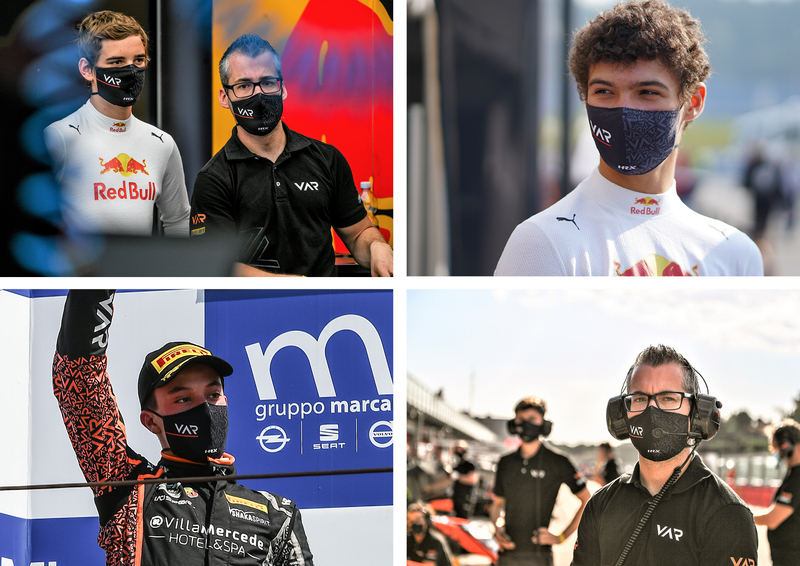 Offical VAR team facemask
Let's be honest, nobody really wants to wear a facemask...but if we can't get around it, why not do it in style!
You can now own the exact same facemask as the ones our team and drivers wear at the track. Together with HRX, our Italian partner for all our race suits and driver equipment, we've realised a high quality, re-usable facemask with a perfect, comfortable fit...and good looks!
For extra comfort, we choose to equip the masks with bands around the back of the head instead of around the ears. An adjustable nose strip allows a perfect fit, making it possible to wear the mask comfortably, even for extended periods of time.
Product details: Non-medical, breathable polyester outside - soft cotton inside - waterproof - antibacterial fibre - OEKO-TEX anti-allergy certified.
Remember, even though a lot of effort went into producing this high quality piece, a mask alone does not keep you safe from getting or spreading the Corona virus. Be sensible; keep a safe distance and keep washing those hands!
Sure, they cost a bit more than the plain ol' boring ones everyone wears, but with your purchase you also support VAR in all efforts on- & off the track! And...they can be re-used 15x after washing, so it really is not bad at all!
The more you buy, the cheaper they get!
SINGLE SHOT: 1 mask for €12,99* per mask
THREE OF A KIND: 3 masks for €11.99* per mask
A HAND FULL: 5 masks for €10,99* per mask
Best Value: 
EVERY DAY COUNTS: 7 masks for €9,99* per mask
In case you are interested in larger numbers, just let us know by sending a mail to shop@vanamersfoortracing.nl
* Dutch VAT included* Shipping & handling not included